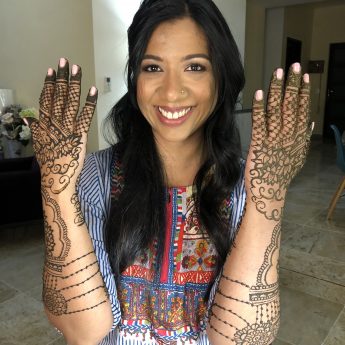 Margarita is not just an amazing artist but a kind and loving human being as well. Her passion for henna shines through in her work. With very little guidance from me, she was able to stitch the story so beautifully in her artwork. Not only did she meticulously plan the henna design but when the time came she jumped to help drive me to the makeup trial studio and finish up her design! Highly recommend!
Shruti Reddy
Bridal Mehndi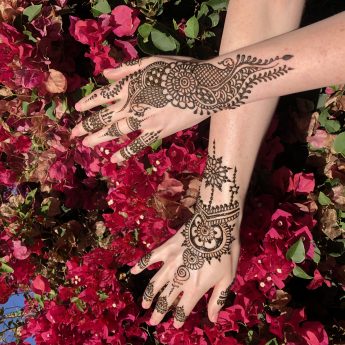 Margarita did the most incredible job with my bridesmaid mehndi! Not only was she was so flexible in helping me get a last-minute appointment, she replicated the design I brought her with laser-like precision, instructed me on proper aftercare, and was a wonderful conversationalist while working. As for the henna itself she's careful to only use natural ingredients that leave a luxurious rich red-brown stain that is not irritating even to thin, sensitive skin like mine. 72 hours after application it is mahogany colored and beautiful. Would recommend without hesitation!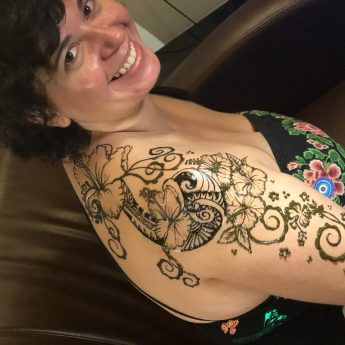 I loved my henna tattoo! It made me feel so special and beautiful 💕 I loved my henna tattoo! Margarita is so creative and talented that her designs make you feel special and blessed! I can't wait to have the next one.

Bought some henna cones from this place. They were natural and organic. A stain was good.
Manali G.
On Line Store shopper

Coming in with a very specific request and no previous henna experience, I was met with the care and concern I needed, resulting in an inking that came out just as I hoped it would! Excellent work!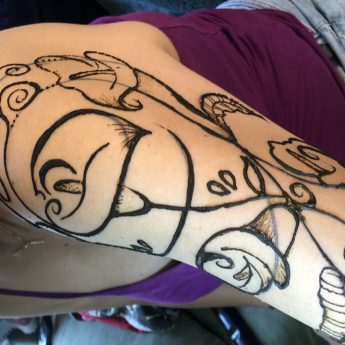 I've been getting Mehndi done for a good 25 years and this is far and away the best experience I've ever had with a designer! She was completely open to my ideas and a delight to spend time with; I've gone to her twice already. Margarita and Rick are both excellent artists, their attention to the smallest details blows me away!
We hired Margarita of Pure Organic to work at our neighborhood block party and she was marvelous! So kind, positive and a skilled artisan. She arrived early, was helpful to all and even brought her sweet husband to help us with all the children and adults who flocked to her table. She did a varied ton of different works. I would hire her again in a New York minute and highly recommend her!
Fran r.
Neighborhood Block Party
She is amazing!! The design was so beautiful and mystical - her space is very enchanting.

I love when Margarita does my henna it is always amazing! Her art is very detailed and will last you a long time! Margarita does henna on kids and since it is made out of organic ingredients it is safe on your skin! She also travels to your location so I think that is perfect for big events like weddings if you want henna on your big day!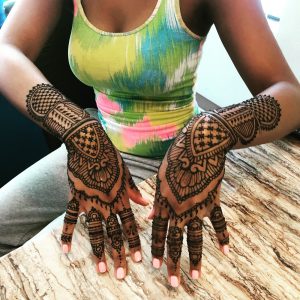 Beautiful work, would definitely recommend.

So happy with my designs! Margarita is an amazing artist, totally recommend her work.

Oh my goodness!!! Where do I start.. first of all Margarita is sweetie as pie. She makes you feel right at home. Her work is professional and beautiful. She is a true artist! I have a horrible mistake tattoo from my teens that is on my butt and I hate showing it when I wear bathing suits. I wanted something specific so she searched on her own and when I came she had a few great options.. the piece came out perfect and covered the tattoo just right! Everyone loved it while I was in Jamaica and thought it was a real tattoo!! It lasted just long enough

I had a very wonderful experience at pure organic. Margarita was very welcoming and her work is amazing!! I will definitely be back for more henna.

My Kids have a great Organic Tattoo it was very cool... Esto está tan padre interesante que no lo puedes creer son unos verdaderos artistas los recomiendo ampliamente si tienen oportunidad háganse un tatuaje de este tipo

Gorgeous!!! I´m really glad with my new tattoo. Thank you for such a wonderful job.