Aloe vera is a plant that has thick leaves with a gel-like substance inside of them. It's found all over the world, and many people even grow their own.
Aloe vera gel is cooling and soothing when applied to the skin, which is why it's sometimes used to treat burns and skin wounds.

Aloe vera has been 
used for centuries

 for its healing properties. Some claim it has another application besides its skin benefits: It can actually strengthen your hair and make your scalp healthier.
While there's no clinical evidence to support this claim, aloe vera is safe for most people and may be beneficial.
The best form of aloe vera to use on your hair is the raw gel of the plant. You can buy this gel in almost any pharmacy or scoop it out of leaves cut fresh from a live plant if you have one. The gel is clear in color and slightly watery.
Rubbing aloe vera into your scalp and hair and letting it penetrate your hair follicles could condition and improve damaged, dry hair. After letting it sit for an hour, rinse the gel off with a mild shampoo.
Aloe vera benefits for your hair
Calms an itchy scalp
Seborrheic dermatitis is the clinical term for the condition we call dandruff. The symptoms of an itchy scalp and flaking skin under your hair can be treated with aloe vera.
A study found that aloe vera helped resolve the scalp inflammation that dandruff causes. The fatty acids found in the aloe plant have anti-inflammatory properties.
Deep cleans oily hair
Aloe vera cleanses the hair shaft efficiently, stripping off extra sebumTrusted Source (oil) and residue from other hair products.
But aloe vera doesn't hurt your hair strands while it cleans. Unlike other chemicals in hair products, aloe vera is gentle and preserves the integrity of your hair.
Using aloe vera is a great way to get hair that looks healthier, shinier, and softer.
Strengthens and repairs hair strands
Aloe vera contains vitamins A, C, and E. All three of these vitamins contribute to cell turnover, promoting healthy cell growth and shiny hair.
Vitamin B12 and folic acid are also contained in aloe vera gel. Both of these components can keep your hair from falling out.
However, there are no studies that confirm conclusively that aloe vera has any benefit in preventing hair loss.
Aloe vera is a popular product that people use on their skin after sun exposure. This is because of its high collagen content and cooling properties. The vitamin content in aloe vera suggests that it might work to repair sun damage to your hair, too.
May promote hair growth
When your scalp has been cleansed and your hair has been conditioned with aloe vera, you might see that hair breakage and loss slows down.
There are plenty of people who claim that aloe vera actually causes hair to grow much faster.
However, anecdotal evidence shows that aloe vera is often used to:
strengthen and condition natural hair
promote hair growth
smooth natural curls
lock in moisture
reduce frizziness
detangle hair
COMMON NAME: Aloe vera
OTHER NAME: Aloe, Barbados aloe, Curacao aloe, Ghrita kumari, Kanyasara
BOTANICAL NAME: Aloe vera (L.) Burm. f.
PLANT FAMILY: Liliaceae
SYNONYMS: Aloe barbadensis Mill.
PART USED: The whole leaf.
OVERVIEW: Dehydrated Leaf Powder.
Aloe vera contains over 75 known active ingredients (and probably many more). Also included are 19 of the 20 amino acids required by the human body and 7 of the 8 essential amino acids (that the body cannot make), as well as vitamins and minerals. Aloe vera also contains useful enzymes li
ke Amylase, Bradykinase, Catalase, Cellulase, Lipase, Oxidase, Alkaline Phosphatase, Proteolytiase, Creatine Phosphokinase, Carboxypeptidase. Aloe vera contains important minerals Like Calcium, Chromium, Copper, Iron, Magnesium, Manganese, Potassium, Phosphorous, Sodium and Zinc. Aloe vera contains useful vitamins which include A (beta-carotene and retinol), B1 (thiamine), B2 (riboflavin), B3 (niacin), B6 (pyridoxine), B12 (cyanocobalamin), C(ascorbic acid), E(tocopherol) and Folic Acid. Salicylic Acid, a substance similar to aspirin is also found in Aloe vera. It also contains Saponins and Sterols.
Pure Organic Aloe vera powder is essential to a well-balanced, moisturized henna hair color and Ayurvedic hair care treatment. We guarantee that by adding organic aloe vera powder to your hair recipe and masks your hair will be left feeling silky, soft and conditioned. 
Dry hair MUST add organic aloe vera powder to their henna and Ayurvedic hair recipes.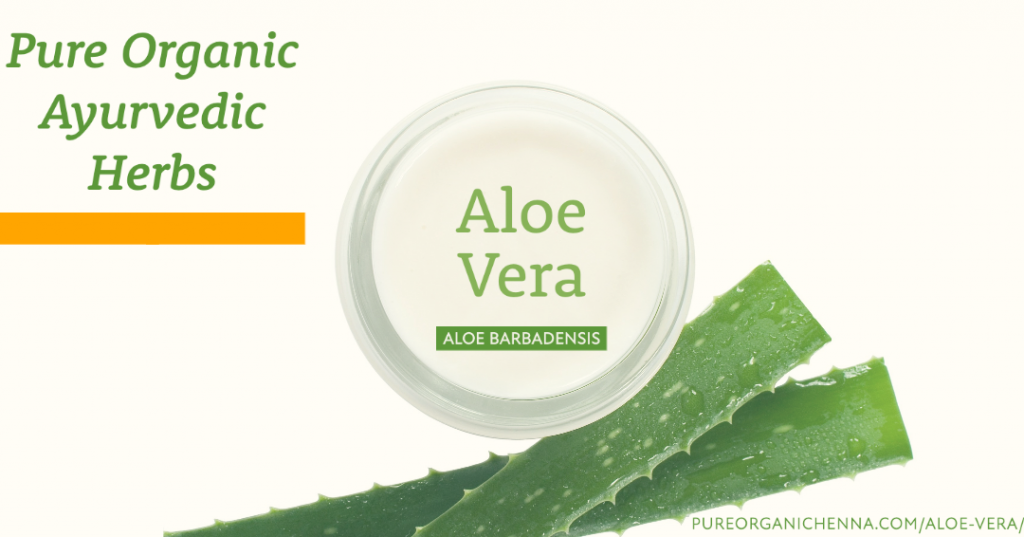 Benefits of Aloe Powder for Hair Care:
Adds moisture to your Ayurvedic and natural hair care recipe

Conditions the hair

Nourishes new growth

Soothes and heals irritated scalp

Stimulates hair growth
Organic Aloe Vera Powder For Skin Care:
Face Wash

Moisturizing Nail Treatment

Face Masque

Soothes Sunburns

Spot Treatment for Acne

Body/Hand Wash
With Henna: You can add our aloe vera powder to your henna and Ayurvedic hair recipes (even indigo) for added moisture and provide slip to make paste easier to apply. Add 1-2 tsp Organic Aloe Vera Powder to 100g of your powder and mix with your choice of liquid.
Added to Indigo: To provide slip to Indigo paste and to lessen the 'drying effect' from the Indigo. Add only 1-2 tsp of Organic Aloe Vera Powder to 100g of Indigo and premix with water before adding to dye released Indigo.
We recommend you add 5% of your whole herbal recipe for best results in general.
Hair Masques: Add 1-2 tsp of Organic Aloe Vera Powder to any moisturizing, herbal, Ayurvedic or protein treatment to amp up the conditioning and moisturizing (when mixing 100 grams).
Hair Wash: Blend Organic Aloe Vera Powder with water, herbal tea or Soapnut/Zizipus tea until the consistency resembles commercial shampoo. Massage the gel gently into the hair and scalp, leave on the hair for up to 5 minutes, then wash out. There's no need to follow with a diluted acidic rinse as the pH of aloe is slightly on the acidic side, closer to the pH of the hair and scalps acid mantle.
Soothing Scalp Treatment: Create a paste from 3-4 TBS Organic Aloe Vera Powder and chamomile tea, and apply to the scalp for an extra soothing scalp pack for irritated and/or itchy scalps.
To Boost Growth: Combine 2 TBS each of Neem Powder and Organic Aloe Vera Powder and 1 tsp Zizipus Powder with water and 1/4 tsp Organic Camellia Oil. Apply to scalp for at least an hour and wash out. Repeat once a week.
As a Post Wash Conditioner: Gradually add water to 1 tsp Organic Aloe Vera Powder and stir until there are no lumps. Stir in another 2 cups of water and shake until all lumps are gone. Pour the liquid over washed hair and leave on the hair for up to 10 minutes. Rinse well.
In Mister Bottles: Blend Organic Aloe Vera Powder with water to form a lump-free paste. Continue to add water until the paste is runny, the add this to 2 cups of water and shake. Make sure there are no lumps, or the spray bottle will clog. Spray the hair when it needs a moisture boost. If the hair feels crunchy, spray the hair with plain water afterwards and use a more dilute solution next time.
Organic Aloe Vera Powder For Skin Care
Aloe is also fantastic for the skin as it is moisturizing, healing, soothing, making it a very popular addition to face masques, body scrubs, nail treatments, cleansers. Following are some ways to use our Organic Aloe Vera Powder on the skin.
Face Wash: Mix a little (about 1/2 tsp) of Organic Aloe Vera Powder in your palm with a little water until a paste is formed. Dampen the face and massage the gel in with circular motions for up to 5 minutes and rinse well. If the gel is not rinsed well from the skin, it can create a slight tingling sensation for some.
Face Masque: Add 1tsp-1TBS Organic Aloe Vera Powder to any facial masque to quench thirsty skin. Organic Aloe Vera Powder can also be used in its own as a moisturising face masque. Moisturising Nail Treatment: Blend 1 tsp Organic Aloe Vera Powder into a paste with water and apply to clean, damp nails. Cover each nail with a square of kitchen wrap and leave on for up to 30 minutes and wash off. Repeat weekly. To heal fungal nail infections, add 1 drop of Tea Tree Essential oil.
Sunburn Soother: Mix Organic Aloe Vera Powder with tea made from Egyptian Chamomile Flowers and apply to sunburn as often as needed.
Body/Hand Wash: Blend 4 TBS of Organic Aloe Vera Powder with either water or herbal tea until it is of gel consistency and massage all over.
Buy Pure Organic Aloe Vera
According to Ayurveda, the hair is a direct by-product of your bone tissue (marrow) and it is also linked to the central nervous system and gut. This means any weakness in the bone tissue, nervous system and digestive system will naturally result in hair loss or diminishing hair growth.
Ayurveda provides you with plenty of options for hair care and longer hair growth. Apart from holistic remedies and practices of incredible wisdom, the most important aspect of Ayurveda is finding solutions.

Pure Organic Ayurvedic Herbs provides you with a customized Hair care regimen that best aligns with your condition based on your lifestyle and type of hair.